Daylilies
a new flower each day, bright colors only
a bloom from june to august, make your choice !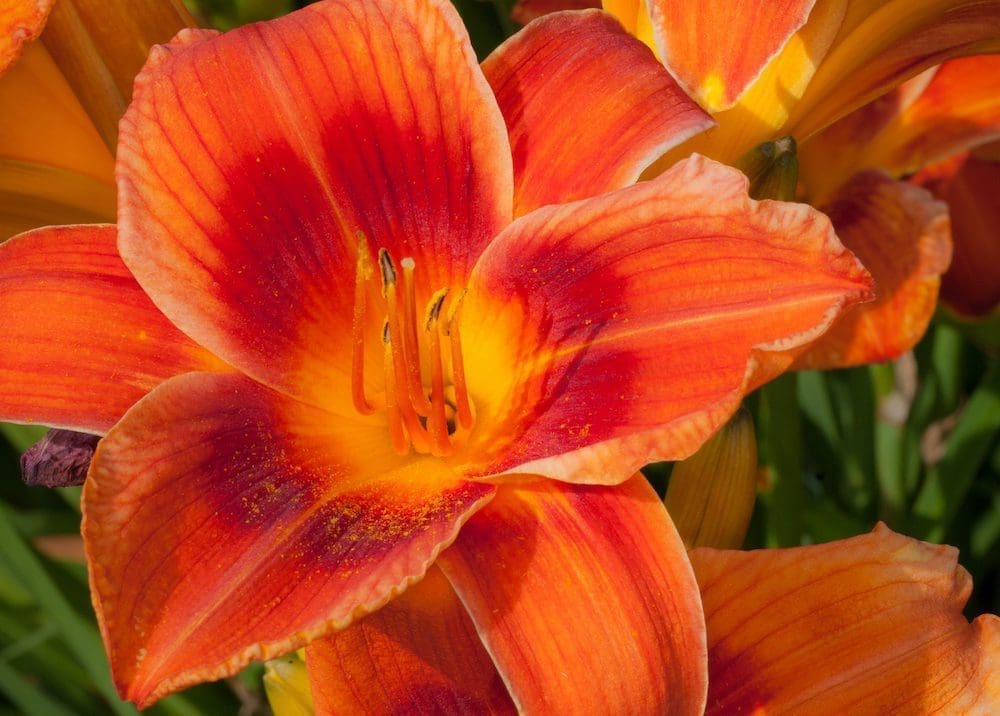 Daylilies, a flower world to explore
From the end of June to mid-August, more than 200 varieties of daylilies bloom in our gardens, one of the most complete collections in Europe. They are all referenced and can be ordered and planted at home.
Daylilies belong to the lily family. Cousins of the Iris, they are often ignored in Europe. However, their flowering, which starts from mid-June until mid-summer, is generous and colorful. Daylilies are a prominent feature of the flower beds in the gardens of Vullierens. They take over from the fleeting iris and maintain lively and colorful flowerbeds throughout the summer.
Contrary to what the delicacy of their flowers suggests, daylilies are hardy and robust, resistant to diseases. They are also called daylilies, because their flowers are ephemeral, one day only, but are replaced by another one on the same stem the next day, ensuring a blooming for several weeks. It is a perfect perennial because it is very colorful, tolerates drought and requires little maintenance. Be patient, it takes two or three years after planting for these flowers to reach their peak. It multiplies by division in autumn.
Daylilies – hemerocallis, take their name from the Greek "hemero", meaning "one day" and "kallo", "beauty". They symbolize the exaltation of perpetual renewal.
The variety of colors and shapes makes them a must for your flowerbeds and moreover the flower is edible!
When to plant
Daylilies can be planted year-round, except during flowering season. We only deliver in September and October as daylilies that are planted in autumn are more likely to flower the following summer.
Where to plant
Choose a sunny spot – at least 4 to 5 hours of direct sun per day – and well-drained soil. Avoid shade and soggy conditions.
Soil preparation
Before planting, turn over the soil to a good depth. Add some organic amendment (well-decomposed manure) or a shop-bought product to obtain a slightly acidic soil (pH 6.0 to 7.0).
Planting depth and spacing
Dig a hole 20 to 25cm deep and water. Make a mound of fine soil/compost in the centre of the hole. Put the rhizome on the mound with the roots spread on all sides. The crown should be just below the surface of the soil. Fill the hole and firm the soil. Plant 40 to 60cm apart.