2018 novelties for families – King Lizard opens the doors of his kingdom to the visitors. Sheltered from the trees, it shares its treasures and history with young and old.
Born from a generous nature sculpted by time, a kingdom is revealed to children. At the bend of a path under the secular trees, it tells the story of King Lizard. As if emotions and senses had been captured in their bark, dozens of trees facetiously hide the personality of more than 7 characters. A world made of nature, to touch, to see, to listen and to feel. The King Lizard's Kingdom is a tribute to the richness of a preserved nature that generously offers its treasures. Let your imagination and creativity run free and it will become your Kingdom.
Practical information
Ask for your map of the King Lizard's Kingdom at the entrance of the gardens.
Take advantage of this space as long as you wish, it takes at least 1 hour to make the tour. The entrance to the Kingdom is about 500m from the castle.
The path is accessible with some strollers, if necessary they can be left at the entrance of the Kingdom under your responsibility.
In the event of strong wind, it may be that the Kingdom closes for security reasons, feel free to ask at the entrance.
The King Lizard's Kingdom is in a natural and preserved environment, children are under the exclusive responsibility of their parents.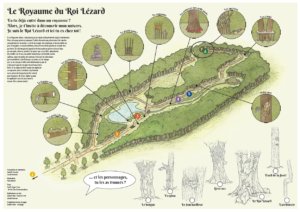 Design and production : Isabelle Monnier, Carole MonnierIllustration : Paco Aeberli
Text : Gaelle Gygax Zosso (Be the One Communication)
Wood constructions : Sylvain Miaz (Passion Forêt), Gérald Monnier